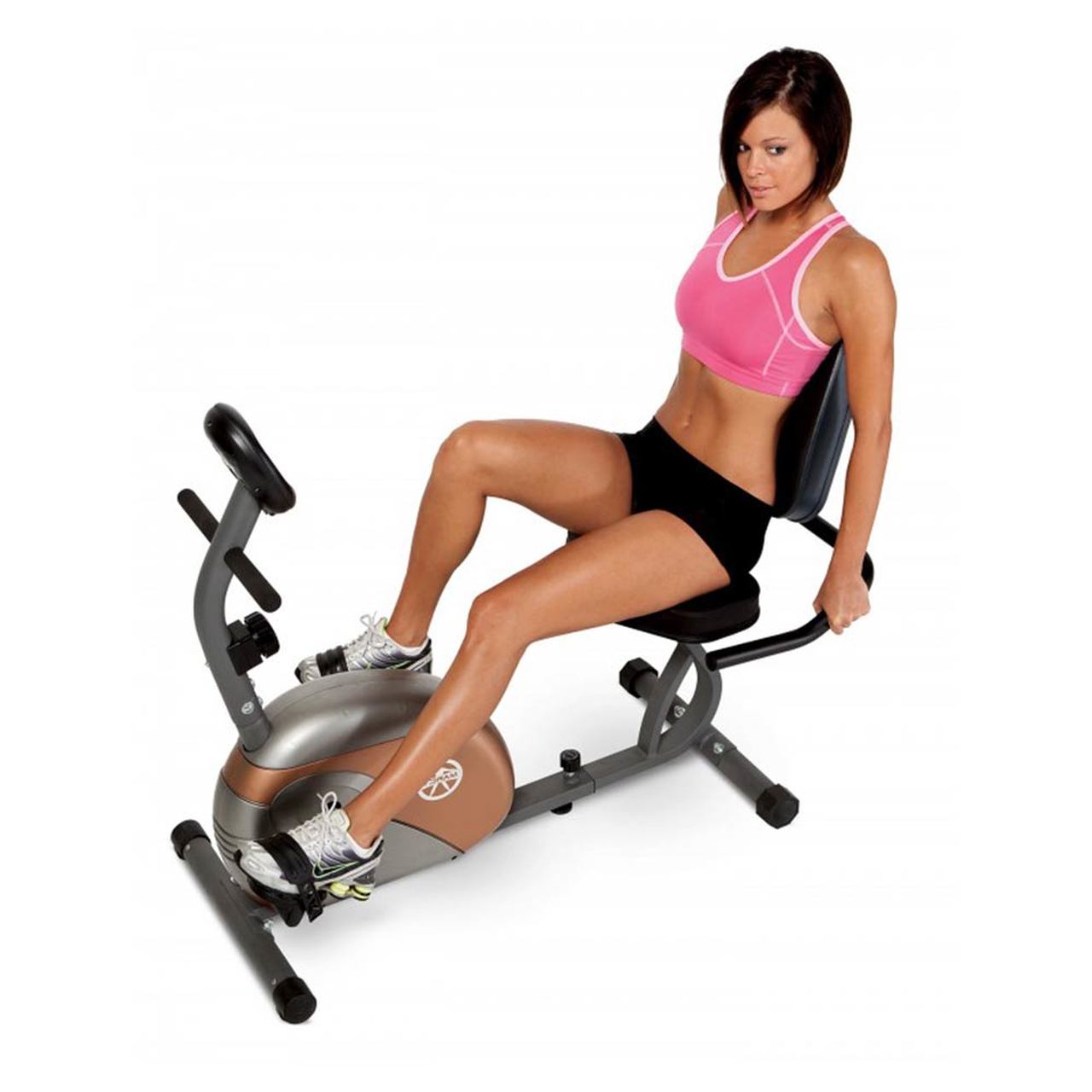 Looking for a reclining exercise bike that will give you a challenging workout – without having to hit the gym?
The Marcy Me-709 has several resistance levels to get your heart pumping and burn more calories. Compact enough to fit in just about any home, this recumbent bike brings the gym to your living room.
One of the top-rated Amazon recumbent exercise bikes, the Me-709 has a compact design, durable construction and an easy-to-read display that will help you keep tabs on your workout's results.
Marcy Me-709 Specs
8 resistance levels
Step-through design
14-gauge steel tubing
Easy-to-read LCD displays time, distance, speed, ODO, calories and pulse
Ergonomically designed, padded seat
Counterbalanced, weighted pedals
Transport wheels
Bike weight: 54 lbs.
Weight capacity: 300 lbs.
Dimensions: 55.5" x 25" x 37.5"
A Complete Review Of The Marcy Recumbent Exercise Bike with Resistance
8 Levels of Magnetic Resistance
The Me-709 is designed to give you a great workout right from the comfort of home. Eight levels of smooth magnetic resistance make your workouts more difficult to boost your stamina and cardiovascular performance while burning more fat.
Multiple resistance levels make this bike a great option for people of all fitness levels. And if you're just getting started with working out, the ability to add greater resistance over time means that this bike can grow with your fitness level.
Easy-access tension knobs make it easy to adjust the resistance, so you can simulate different terrains on-the-fly.
The great thing about magnetic resistance – compared to other forms of resistance – is that it's smooth and quiet. You can get in an early-morning workout without waking up the family.
Smart, Durable Design
If you're serious about fitness, you need a bike that can handle daily, heavy use. This Marcy exercise bike features a heavy-duty, 14-gauge steel tubing frame with a powder-coated finish for maximum durability. Other durable materials, like PVC and rubber, make this bike resistant to chips, scratches and environmental damage.
The durability of this bike is reflective in its weight capacity: 300 lbs.
The step-through design makes it easy and comfortable to use this bike. If you're dealing with a back or knee injury, you'll appreciate how easy it is to mount and dismount the Me-709.
Lightweight and Compact with Easy Assembly
Despite being made with heavy-duty materials, the Me-709 is surprisingly lightweight at 54 lbs. The shipping weight is just 66.5 lbs., so one or two people can easily manage unboxing and assembling this bike.
One person can assemble this bike in an hour or less – and that's if you take your time. Most users agree that the Me-709 has one of the easiest and most efficient assemblies of any recumbent bike on the market.
The easy assembly is partially due to this bike's compact footprint. With dimensions of 55.5" x 25" x 37.5," the Me-709 can easily fit into just about any home. Plus, this model has transport wheels, making it easy to push into a corner or closet when it's not in use.
Ergonomically Designed
Recumbent bikes are generally more comfortable than stationary bikes, but if the seat is poorly designed, it can make your workout torturous.
Marcy designed this bike with comfort in mind, so you can focus on your workout without distractions.
The foam padded seat is comfortable and supportive, with a full-back seat design and ergonomic handles on each side.
The weighted, counterbalanced foot pedals have adjustable straps to keep your feet firmly in place as you pedal away. The counterbalance feature keeps the foot pedal in an upright position, so you can just slip in your feet and start pedaling right away.
LCD Workout Monitor
Marcy makes it easy to keep tabs on your workouts, with an easy-to-read LCD monitor. View your:
Calories burned
Distance
Workout time
Speed
The display is powered by 2 AAA batteries (not included). The monitor has simple controls and is positioned at a comfortable height, which makes it easy to flip through your stats without having to stop your workout.
What We Like About the Me-709
There's a lot to love about the Me-709. It's sturdy. It's durable. It has a small footprint. Unlike air bikes, this model is smooth and quiet.
The durability and lightweight design of this bike are its most attractive features. Many people assume that they don't have the space for a recumbent bike. Others worry that they'll spend their hard-earned money on a piece of equipment that breaks down after a week.
The Me-709 tackles these issues by offering a solid, sturdy construction with a small footprint.
The built-in transport wheels also make it easy to store this bike in between workout sessions. Simply push it into a corner or closet to free up space.
The compact size and transport wheels make this bike a great option for people who are short on space.
The resistance allows you to adjust the difficulty of your workout to your fitness level. Kick up the tension to push your limits, or tone it down to cool down at the end of your workout. The Me-709's versatility means that you can continue using this bike for years to come.
The Me-709 makes fitness more accessible to everyone, with the ability to support users of up to 300 lbs.
Marcy Me-709 Reviews
What are other users saying?  Users love this recumbent bike.
From the easy assembly to the quiet design and difficult resistance levels, there is high praise all around for this model. They admit that this bike doesn't have all of the bells and whistles of a bike at the gym, but it gets the job done – and it does it well.
Here's what people are saying about the Me-709:
Easy to assemble, especially if you have an extra pair of hands to help.
Easy to carry the box upstairs, and assembly is quick.
Great value for the money.
A sturdy bike that's still going strong after months of heavy use.
Easy on the back, and delivers a difficult workout
Although the Me-709 doesn't have all of the high-end features you'd find on a commercial gym bike, it hits all of the most important notes: durability, difficulty and easy assembly.