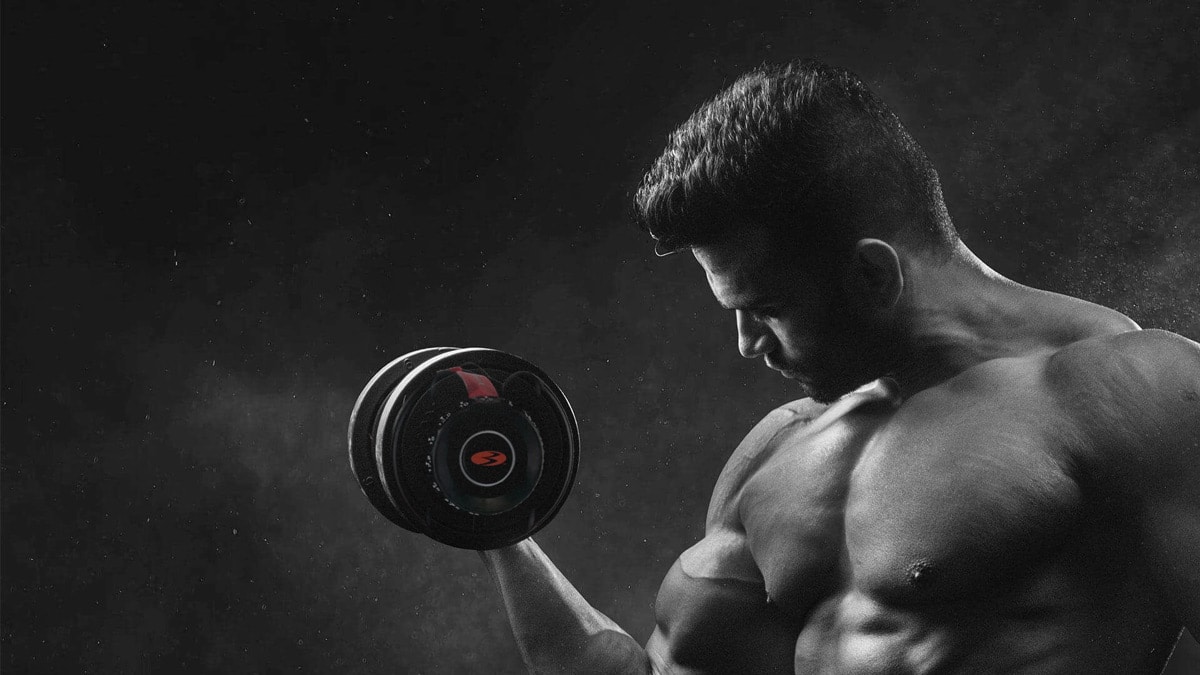 Working out at home is in style right now. People are short on time, and some people don't want to spend money going to a gym.  As of this date, you cannot even go to the gym in most areas due to Covid-19.
And while you may miss a few exercises that you like and even enjoy by not going to the gym, a pair of quality adjustable dumbbells will allow you to work all areas of your body, including:
Chest – Back – Legs – Biceps – Triceps – Shoulders
You can do complex movements and isolation movements with adjustable dumbbells.
And if you're short on space, these sets will fit perfectly in the corner or in a small studio apartment. You don't need a full-scale gym to be able to work out at home.  Adjustable weights will suffice.
Everyone has seen Bowflex home gyms, but the company also offers Bowflex SelectTech 552 adjustable dumbbells. They are high-quality and a great product overall.  The problem is that these dumbbells are often over-priced or simply not practical for some users.
We're going to review a few Bowflex dumbbell alternatives that are well-made, affordable and will allow you to enjoy a robust workout.
Top 3 Bowflex Dumbbell Alternatives

1. PowerBlock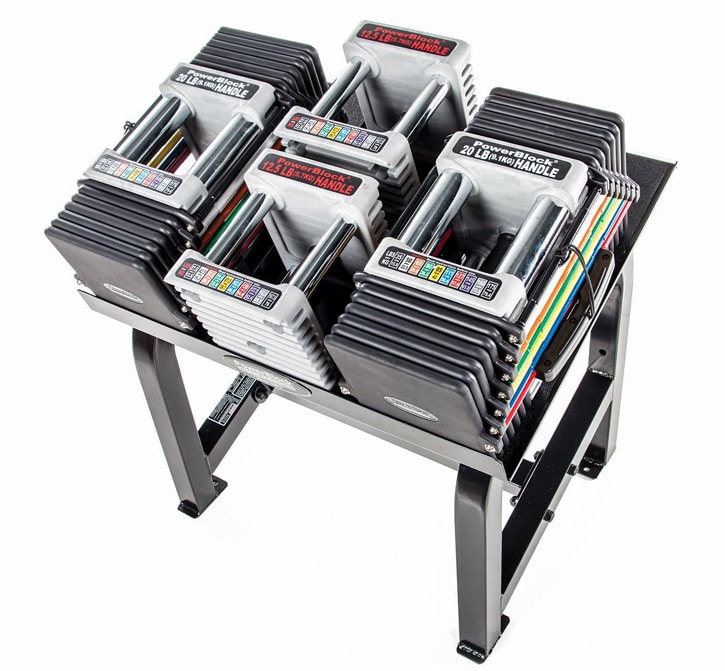 PowerBlock has been around since 1993, and this company doesn't offer cheap adjustable dumbbells. But what they do offer is the world's best-selling, highest rated set of dumbbells. Made in the United States, these dumbbells aim to do one thing: declutter your space.
It's cumbersome to have 9 pairs (or more, depending on the increments) of dumbbells to just go from 10 to 50 pounds.
In most homes or apartments, there's simply not enough room for all this equipment. PowerBlock allows you to combine 20+ dumbbells into one small adjustable dumbbell.
It's the perfect choice for a home gym.
Keep in mind that this is an actual block rather than a standard circular dumbbell. The block makes it easier and more natural to perform some movements, such as a, upright row or bench press.
You still have comfortable, sturdy handles to use.
Fitness professionals, athletes and home users, just like you, are enjoying the benefits of PowerBlock.
Budget Option: PowerBlock Sport Review
When you're on a budget or have no need for weights weighing more than 24 pounds, this is the set of adjustable dumbbells that you'll want to buy. Bowflex does not have a competing model in this weight range, so it's difficult to compare the two.
What I will say is that the PowerBlock Sport comes at a much lower price than the Bowflex and includes:
3-pound increments from 3 to 24 pounds
Maximum weight of 24 pounds
Selector pin
Quick and easy to adjust, the Sport dumbbell set – you receive two – has a selector pin that takes seconds to move to adjust your weight.
If you're trying to exercise at home and want to engage in a high-intensity interval training session, HIIT for short, the quick adjustments will allow you to do just that. You'll be able to rapidly adjust your weights, in three-pound increments, to keep your heart rate high and your caloric burn high, too.
With a 10-year warranty, this is a purchase that you can be confident will allow you to burn fat and gain muscle. You won't get this long of a warranty with cheap dumbbells, so it's a great addition for an adjustable dumbbell.
These are the best adjustable dumbbells for anyone on a strict budget.
PowerBlock Pro Review
PowerBlock Pro's adjustable dumbbell set is very similar to the Bowflex model, which offers a set that is up to 52.5 pounds for each dumbbell. Price is similar in most cases, but the major benefit is that the Pro, which goes from 2.5 to 50 pounds, has 20 pairs of adjustments.
Speaking from experience, Bowflex starts off with 2.5 adjustments which stop after 25 pounds. Once you hit the 25-pound mark, you'll have only five-pound increments, which don't sound like much, but they are when you're trying to build strength.
PowerBlock allows you to go up in 2.5- or 5-pound increments all the way to 50 pounds
For this reason alone, the PowerBlock Pro is better and more efficient.
Incremental increases allow you to slowly push your boundaries, tearing down your muscle fibers faster and building strength faster. For example, going from a 20-pound bicep curl to a 25-pound curl doesn't sound like much.
But it's a 25% increase in weight.
If you're able to curl 22.5-pound weights, you'll be able to stress the muscle faster and move from 22.5 to 25 pounds faster than if you had to make the jump from 20 to 25 pounds.
PowerBlock Elite Review
When you see the Elite, you may be thinking: they're so cheap. But the Elite is really an upgrade option for the Pro. The elite allows you to add 20 or 40 pounds on to your routine. Since most people will not need 90-pound dumbbells, this addition can really provide a home gym that will not be outgrown.
You'll be able to choose between to expansion kits:
50 to 70 pounds
70 to 90 pounds
You can add increments from 2.5 pounds to 70 pounds, with 22 different increments.
The Elite isn't a full adjustable dumbbell set, but rather an upgrade that allows you to go from 50 to 70 pounds or 70 to 90 pounds respectively.
Bowflex doesn't offer an upgrade option, so you will need to purchase an entirely different dumbbell set. Even with Bowflex's 10 to 90-pound set, you're only able to adjust to 17 different levels.
What's the big deal?
When working accessory muscles, such as your shoulders, those additional increment increases are very beneficial. The incremental increases, especially in the 2.5-pound range, enable you to stress your muscles further, pushing your limits and breaking down your muscle fibers even more.
This is an upgrade to the Bowflex that will help you gain strength and pack on muscle much faster if you use the incremental increases to your advantage.
2. Merax
Merax is a company based out of California that seems to manufacture a little of everything, from adjustable dumbbells to gaming chairs and hundreds of other products. The company was founded in 1995 and now has offices across the world, including Germany, Japan, China and the UK.
The company makes a range of all-inclusive products, including an impeccable set of dumbbells.
Merax Deluxe Review
Merax Deluxe is an upgrade to the Bowflex primarily because the company offers an in-between option that goes from 11 to 71.5 pounds in weight. The increments for the adjustable dumbbell increase by 5.5 pounds, so it's a great set for:
People with a good baseline fitness level
People wanting to use large muscle groups
If you're doing bench press, squats, overhead press or other complex movements, the 5.5-pound incremental increase won't be a big deal. I personally prefer the 2.5-pound increases for accessory muscles, but when it comes to your major muscle groups, 5.5 pounds should be fine.
The set eliminates the need for 12 weight sets, and there is a two-year warranty worldwide.
A dial allows you to quickly switch weights, and there's also a stand included. Most adjustable dumbbells require you to buy the stand separately, and the stands are often close to a hundred dollars.
Merax includes the stand and it's on wheels that lock.
When you want true freedom when working out, the Merax Deluxe stand provides you with this freedom so you can move the stand easily from one location to another. With Merax heavy dumbbells, the wheels make moving the dumbbells as simple and convenient as possible.
How Do Adjustable Dumbbells Work?
The basic function of adjustable weights is the same, but they hold several, sometimes 20+, dumbbells in one. When using standard iron dumbbells, you must buy a new set every time you want to move up the weight.
Every exercise is different, so you'll need different weight levels when performing a tricep extension versus, say, a goblet squat.
Adjustable dumbbells have either:
You turn the pin or twist the dial, and the weight is adjusted. Pull the weight out of the cradle, and you'll notice some plates or weights are left inside the cradle. Rack and piston systems, or various other systems, are in place that keep the chosen weight on the dumbbell and the remaining weight inside of the cradle.
Why are Adjustable Dumbbells So Expensive?
You'll typically pay $1 to $3 per pound for an iron weight. A 25-pound plate can cost $25 to $75, and dumbbells are rather similar. You might pay $20 for a 10-pound dumbbell and $50 for a 50-pound dumbbell since the price seems to go down the heavier the weight.
Because you're receiving 10+ different increments of weights, if you purchased all weights separately, you'd find that adjustable weights are often more affordable in the end.
And let's not forget that these weights save you so much space. You can have your own personal gym even in a flat or studio apartment where space is very limited.
What Exercises Can I Do with Dumbbells?
Dumbbells are one of the most underrated pieces of equipment. When you use dumbbells, you must engage stabilizer muscles and accessory muscles that aren't in use when using a machine.
These muscles will add to your overall strength and fitness level.
If you're creative, you can work all your major and accessory muscle groups with a simple dumbbell.
You can perform:
Dumbbell presses
Overhead presses
Squats
Side and front raises
Goblet squats
Bicep curls
Hammer curls
Concentration curls
Flys
Reverse flys
Rows
Upright rows
Tricep extensions
So much more
You can find key exercises that will work many of your muscle groups by just using dumbbell sets. If you engage in HIIT, you can even eliminate the need for expensive cardiovascular equipment.
The key is to work with what you have.
You'll find more than enough videos and websites dedicated to using just dumbbells to get fit. If you have the motivation, you can lose weight, enhance your fitness and build muscle with a set of weights that will fit in the corner of any room.
Adjustable Dumbbells vs Standard Dumbbells
A lot of people don't understand the immense amount of space that single, iron or other solid metal dumbbells tend to take up in a home. The adjustable models allow you to:
Save space
Switch weight rapidly
Switch weight in smaller increments
But the standard weights have the benefit of being solid. You really don't need to worry about these sets breaking or any of the mechanical components of the set breaking.
Otherwise, both types of weights are going to provide you with an option to get fit.