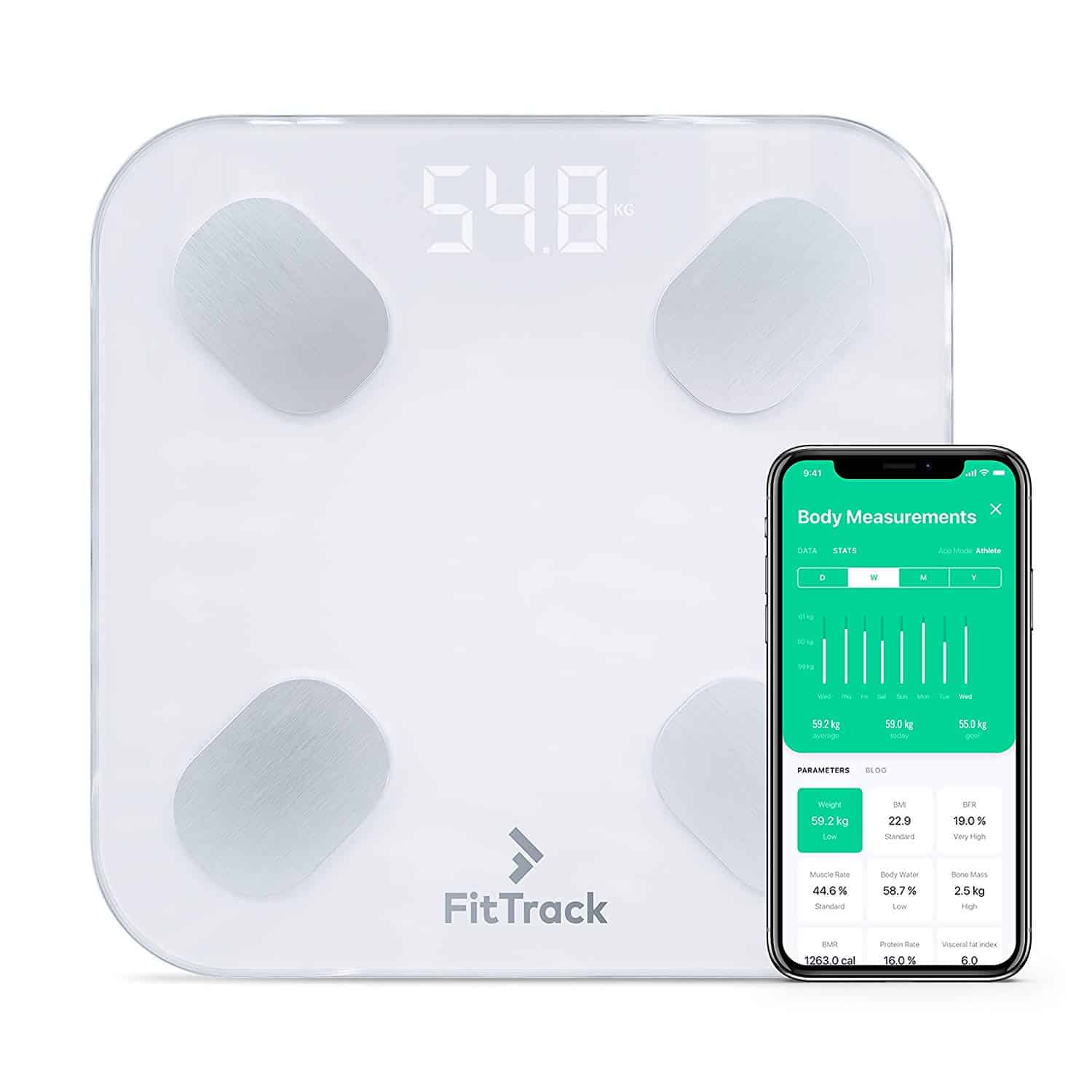 If you've been trying to get fit, you know that your weight only tells part of the story. When you step on a scale and see your weight, it's difficult to understand the entire picture of your health. You may be 180 pounds with 12% body fat percentage – meaning you're very muscular.
Or, you can be 180 pounds with 40% body fat and be in the unhealthy, obese range.
FitTrack's Dara Smart scale is touted as a body mass index (BMI) scale, but it's so much more. The smart scale incorporates an app and Bluetooth functionality into the scale so that it can send data to your smartphone (you need to open the app first).
The data will be saved on your smartphone's app, with profiles for up to eight users.
It's easy to be able to track your weight, your partner's weight and anyone's weight in the home with the FitTrack scale. You'll be able to log your weight and all of your body composition measurements with FitTrack.
It's the perfect choice for anyone who wants to get healthier and prefers to use data to visualize the changes they've made through numbers and percentages.
How Accurate is The FitTrack Pro Smart Scale?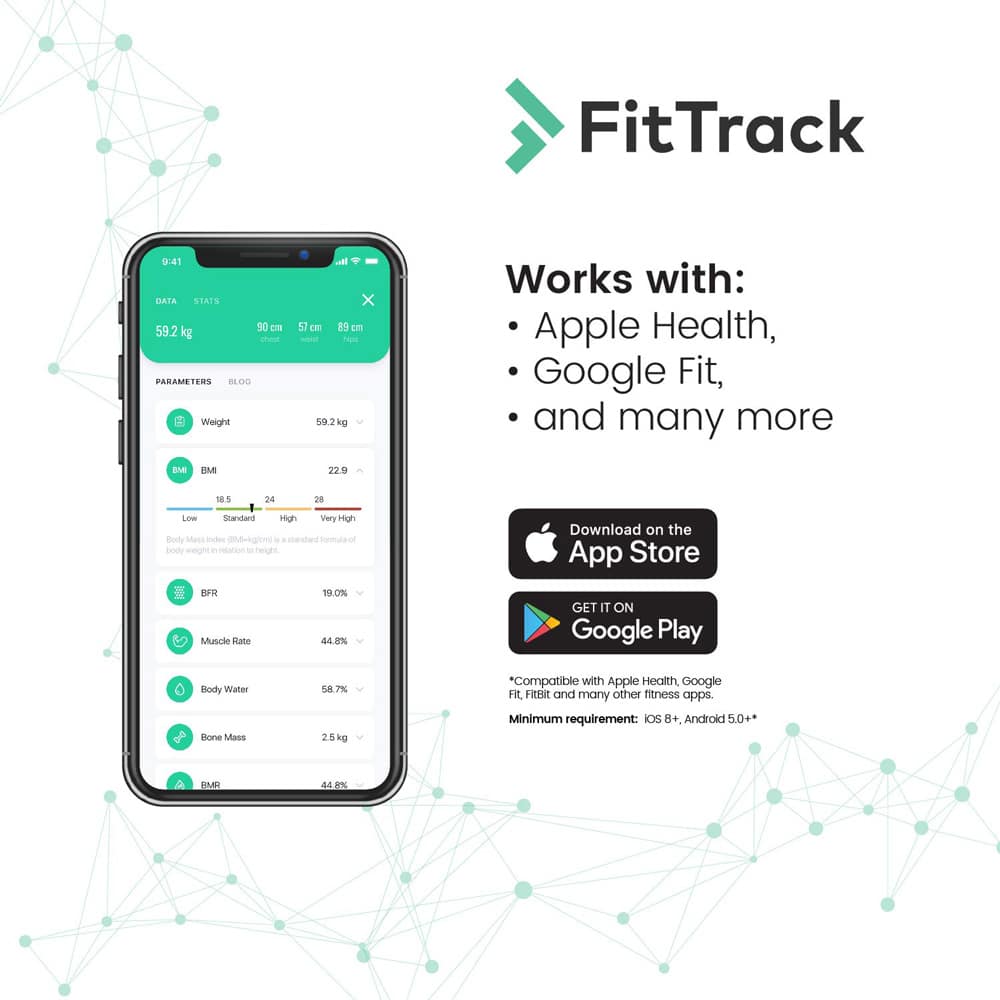 Over 120,000 people have chosen FitTrack because of the scale's high level of accuracy. When you measure your weight, the scale is accurate to +/- 300 grams. Accuracy of the scale is due to a patented Bioelectrical impedance technology. When measuring body fat, this scale came with a +/- 3% accuracy when compared to a medical DEXA scan – that's extreme accuracy in the comfort of your own home.
Designed for all body types, the scale will allow you to change body types for each user for an even more accurate reading. You can change the scale's setting to an athletic body type to have a more accurate body composition reading.
Body type changes allows the scale to perform better for the user and adds to the overall accuracy of the scale.
The technology, along with proprietary equations, make this a one-of-a-kind-scale.
Even users rave about the accuracy of this scale. Variables can cause some measurements to be inaccurate, such as your body fat ratio, which may not be as accurate as using body fat calipers for measurement (but are still highly accurate).
When you step on the scale, a lot is going on at one time. The scale is sending data to your phone via an app that is easy to setup. Data is being collected, and equations are being performed to provide body and health measurements.
In total, there are 17 body and health measurements: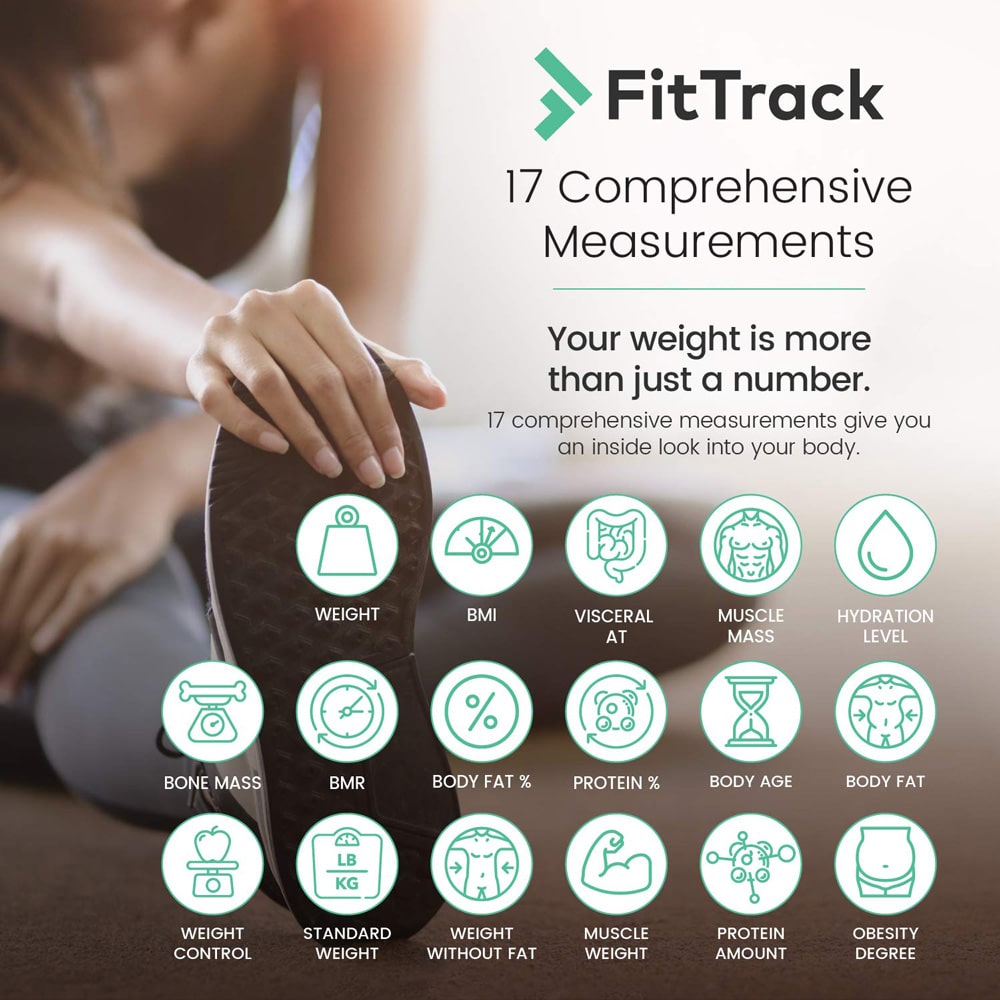 Base Metabolic Rate
Body Fat Ratio
Body Mass Index
Bone Mass
Fat Mass
Hydration Level
Metabolic Age
Muscle Mass
Muscle Rate
Protein Mass.
Protein Rate
Standard Weight
Subcutaneous Fat
Visceral Fat Index
Weight
Weight Control
Weight Without Fat
When you have all of your body composition measurements and data in one place, it's easy to be able to track your progress. All of this data goes through the proprietary equations to help improve the accuracy of each data point.
The data is fed to an app that is free and user-friendly. The one trick, and a downfall, to keep in mind when using the FitTrack app is that you need to have the app open on your phone for the data to sync properly.
A lot of users complain about this feature, but it's a feature that puts less strain on your phone and still works well.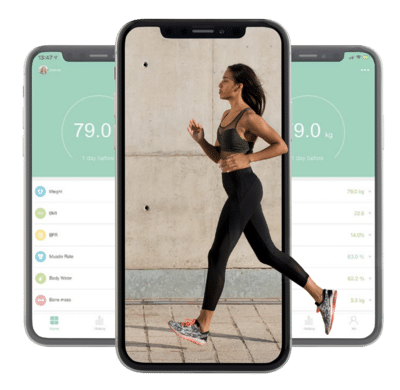 When using the FitTrack scale, you may want to use the scale for the entire family. Intuitive features allow you to have eight different accounts setup on the scale that allow you to track:
Humans
Infants
Fur babies
The scale is smart enough to recognize each person that steps on the scale. Your measurements would have to be very similar for the scale to mistake users. When you step on the scale, it will go through your measurements to verify that you're the user and allow you to store all of your data on the free app.
Since the scale is small and compact, you can confidently bring it with you anywhere you go without concern that the scale will weigh you down in the process.
Data can be tracked and monitored in several ways, including:
Daily
Weekly
Monthly
Yearly
Open up the app and easily visualize all of your progress that you have made since first using the scale.
The app does work with Android and iOS, so it will work on most any phone that you use.
When you step on the scale, you'll wait under 20 seconds for all of your metrics to be calculated. The display is an LCD screen with easy-to-read sizing. Only your weight is displayed on the scale, so you won't be able to see any of the other measurements until you look on your app.
Data Display in an Easy to Read Method
The app's interface is very intuitive and informative. You may not know that a VFR of 27% is in the standard range. You may not know that 53% muscle rate is good, or that a 39% body water rate is low.
The app's interface provides a scale for percentages that shows you where your percentages fall:
Low
Standard
High
Very high
A description of every reading is provided, too. The description informs you on what each reading means and how it correlates to your health.
If you want to check your weight daily but normally forget, you can setup app reminders that will remind you daily to track your measurements. A lot of experts don't recommend daily tracking because weight can fluctuate a lot from one weighing to the next.
But since the app will hold all of your data, daily or weekly weighing can help you better understand how your diet or exercise plan are working for you.
You'll even receive personalized insights so that you know what habits or changes to your routine must be made to reach your fitness goals faster.
FitTrack Scale Reviews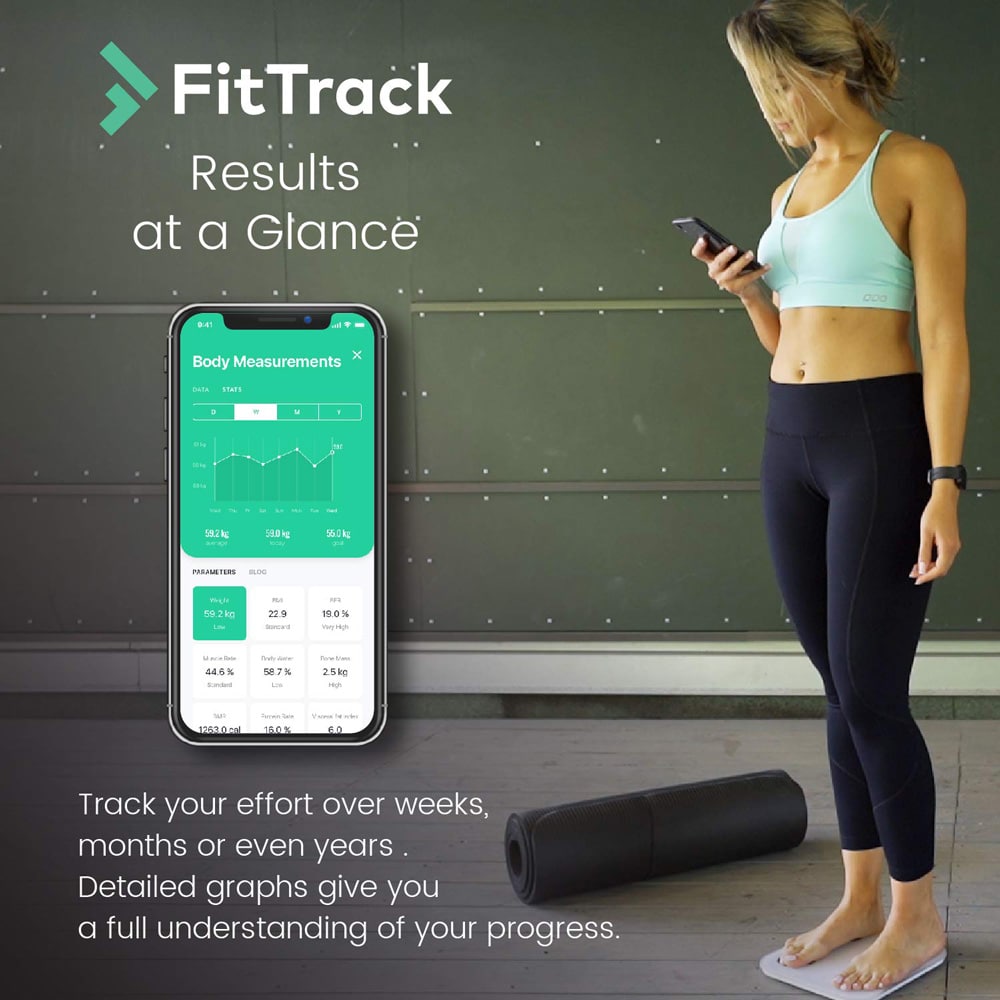 You can learn a lot about a product when you read through reviews. As the top-rated Amazon weight scale, the FitTrack scale has ample reviews that allow us to get a deeper look into this scale and how it works.
The Good
Very accurate and looks great.
Little margin for error and allows for 17 different measurements.
Connective app is simple and allows me to add my wife and I to the app quickly.
People that have reviewed this scale call it the best BMI smart scale that they have used. The accuracy is touted as one of the best features along with the app, which allows you to quickly and easily monitor your progress.
The Complaints
Doesn't log data into your phone unless the app is open.
Body fat is not accurate enough.
When you look at the complaints, they seem to be fairly minor. You do need to open the app for it to register all of your data, but this shouldn't be a major issue. The other question is on the level of accuracy for body fat percentage. The scale is not as accurate as a professional body fat measurement or muscle mass measurement, but it gets close to the number.
For a scale, it offers 17 functions that will give insight into how well your fitness or weight loss program is working for you. It's not 100% perfect, but it is one of the most accurate smart scales on the market today.
Where to Buy the FitTrack Scale?
I normally recommend Amazon as the go-to online retailer because they offer some of the best prices, fast shipping and have great overall support.
When you choose Amazon, you know that your purchase will be backed by one of the world's best retailers.
But we have also secured you a custom coupon from the manufacturer.
Our custom coupon allows you to purchase your scale directly from FitTrack. The key benefit to making a direct purchase is that you'll have an easier time contacting the manufacturer about any defects or issues with the product.
The manufacturer also offers a 30-day, 100% money back guarantee.
If you don't like the FitTrack scale or it doesn't meet your expectations for some reason, you can return the scale hassle-free. It's an offer that is too good to pass up with little-to-no risk for you.