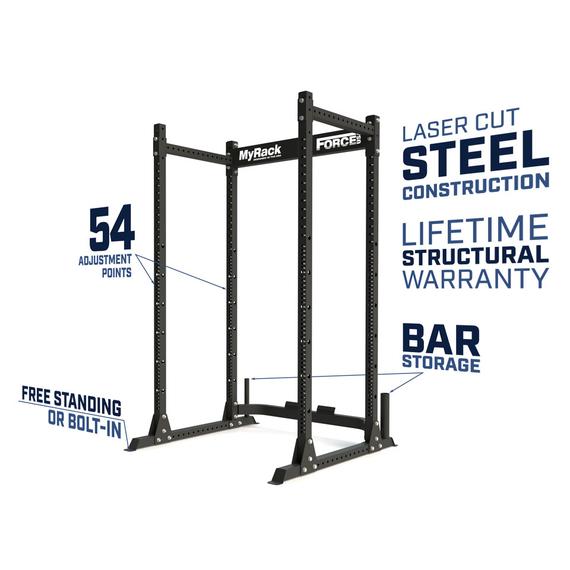 Force USA's MyRack is a customizable modular power rack that has a 2,000-pound weight capacity and offers a design that grows with your fitness needs.
This is the Power Rack that you will see many pro powerlifters using.
And at 2,000 pounds, it is able to handle the heavy weights that Eddie Hall and Hafþór Júlíus Björnsson (Thor) can lift. It's a power rack that goes beyond the standard "Smith machine" rack that you see in gyms. For home garage gyms, this is the best power rack you can buy when you are serious about your fitness.
This rack is modular, and that means that you can swap in MyRack attachments to change the target muscle and workout.
About Force USA
Force USA manufactures the world's leading power rack: MyRack. You can use the rack as a squat cage, or you can attach the dip adjustments and work on your dips. Force USA designs light commercial and home use products that have been tested in commercial situations.
Products are made in the USA, and you'll receive a lifetime warranty on the structural quality of every product.
You'll find some of the best garage gym systems and custom power racks in the company's lineup of products.
Force USA also has financing options (0% APR is the current rate).
Force USA MyRack Review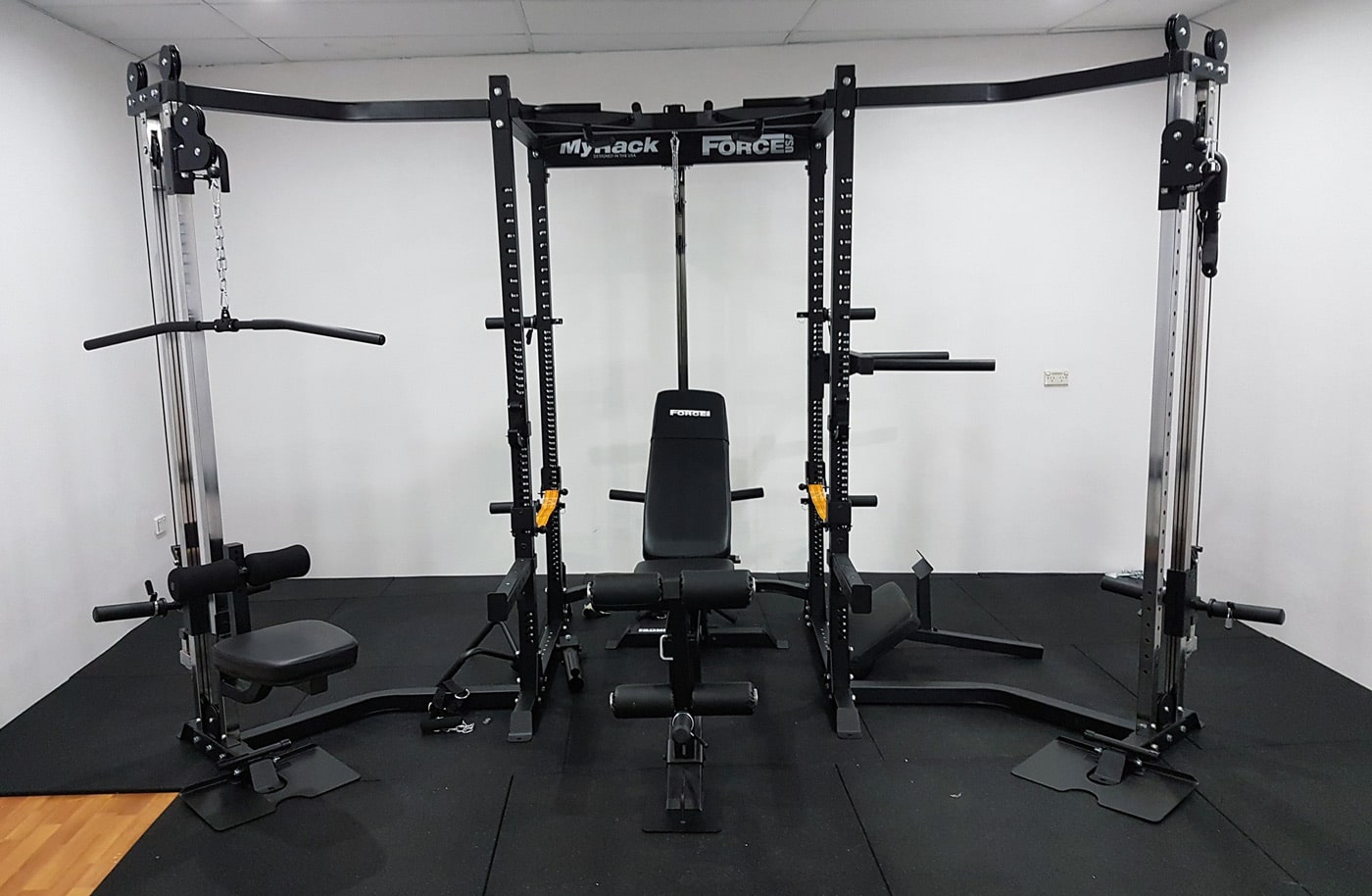 MyRack starts at just $599, $399.99, and has a 2,000-pound capacity.
You'll be able to choose between an array of attachments to customize your rack. The racks are mid-range and designed for the home or garage gym.
The rack handles a lot of weight, and expands to work nearly every part of your body.
This isn't a commercial power rack, but it is able to withstand extensive usage and comes with expansion possibilities that other light- and medium-duty racks do not offer.
Base Rack
The base rack comes with a lifetime structural warranty, bar storage, 54 adjustment points and can be placed free-standing or bolted in for additional support. Each rack is made from laser cut steel. MyRack is what you would want if you want:
An all-in-one solution for a home gym
A customizable rack that can grow with your fitness level
If you have limited space or a lower ceiling height, this power cage will fit perfectly in your gym.
The base rack allows you to perform key exercises, including:
Squats
Overhead press
Deadlifts
Bench press
And while the rack can be used freestanding, it's always safer to bolt the unit into the floor to prevent potential movement or accidents.
The base rack's extra-sturdy steel construction comes with the following dimensions:
87" height
47" width
55" depth
29" interior depth
Westside space is followed, and there are 12 GA steel uprights. The uprights are 2.4" x 2.4" with 5/8" accessory holes. The product weight is 176 pounds, and the rack ships in three separate boxes.
Personalization When Ordering
When you place your order, you're starting out with a base rack and will end with one of the industry's best custom power racks.
The rack is bare bones, so you will not receive the standard:
Safety system
Pull-up bar
Hooks
J-cups, etc.
During the ordering process, you'll be able to choose between 20 optional attachments that allow for hundreds of configurations.
The attachments that you'll be able to choose from, known as MyRack attachments, include: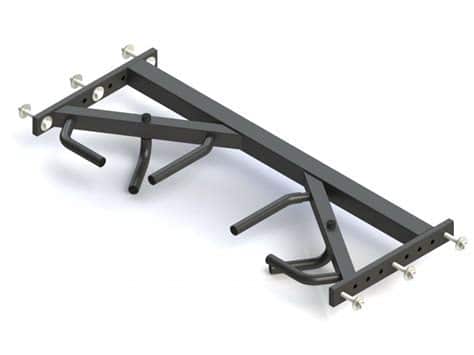 Weight plate holders
Deluxe J-hooks
Dip handle
Box tube safeties
Standard J-hooks
Safety slings
Classic grip chin-up bar
Landmine
Safety spotter arms
Band pegs
Law pull down and low row
Cable crossover (one side)
Money bar
Monolift system
Globe grip chin-up bar
Knee holder kit for lat attachment
Hammer grip chin-up bar
Lat pull down seat
MyRack Attachments
The attachments that you choose will dictate the different exercises that you're able to perform.
Two of the main attachments that consumers purchase are:
Lat Pull Down and Low Row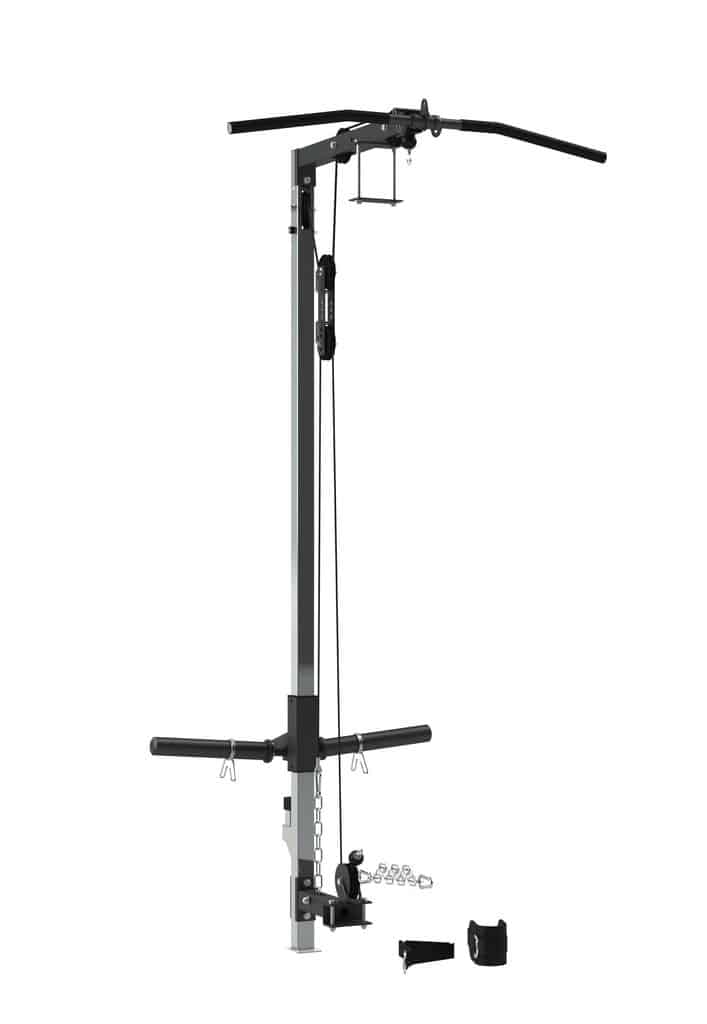 The lat pull down and low row is a great way to work your lats, forearms, biceps and even rotator cuffs to some extent.
Lat pull downs are a key compound exercise that is nicely added into a back routine that includes a low row.
You'll find that the attachment is unmatched, allowing for overhead cable exercises to be performed.
Users can choose to perform
Overhead cable exercises
Low rows
Lat pull downs
Tricep pushdowns
Force USA has included Olympic plate adapters so that you can use 25mm and 50mm plates. Standard plates can also be used.
The attachment has a unique, welded support bracket and a safety stopper that allows you to max out your lifts with peace of mind in knowing that the attachment will be able to withstand the weight.
The pulley weight rating is 880 pounds. The aircraft cable weight rating is 2,000 pounds. Both of these weight ratings are static load tested.
Cable Crossover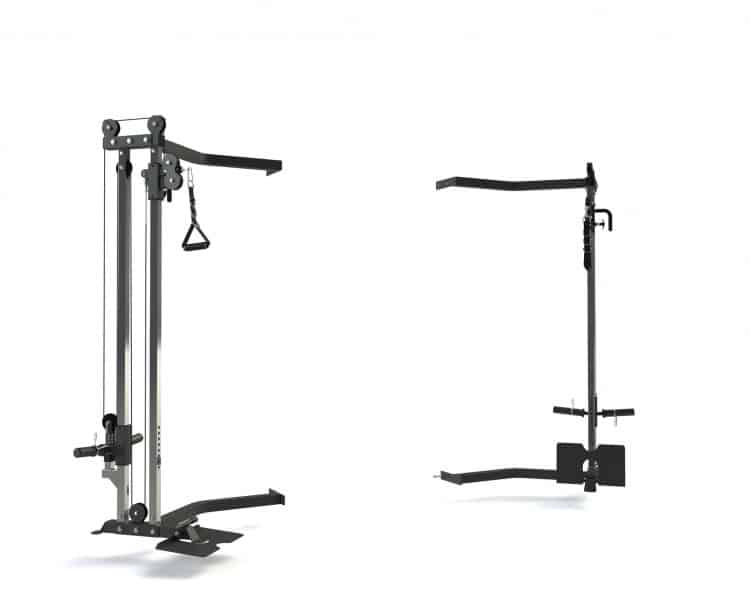 The cable crossover is a great addition to every gym rack, and since this is a one-sided option, it allows for space savings. The cable crossover costs $429.00, and it attaches perfectly to the side of your rack.
When you use the cable crossover, you'll be able to use standard and Olympic weight plate adapters.
Each side is rated to hold 1,000 pounds each, and the attachment will add 49" to the width of the MyRack. You must load the plates evenly.
There's a seat option available, and there's also a low-row folding footplate included. The rack has 28 adjustment options. A single pop pin can be adjusted with one hand and allows you to adjust between 28 different points.
The points allow you to hit different muscle groups.
Place the cable on the lowest pin and perform a bicep curl. Place the cable high up and start performing a single arm triceps pushdown. You can step back from the unit and perform single arm rows or face pulls to work your back and shoulders.
A handle is included, but you can buy different attachments to perform different exercises. Purchase ropes, stirrup handles, tricep handles, straight bars, curling bars – anything you want.
You can also purchase ankle straps to perform hip or glute exercises.
If you have a bench, you can place your feet on the foot plates and start performing rows.
The cable crossover is highly recommended and offers a variety of exercises that can quickly be added to your gym rack.
Custom Power Racks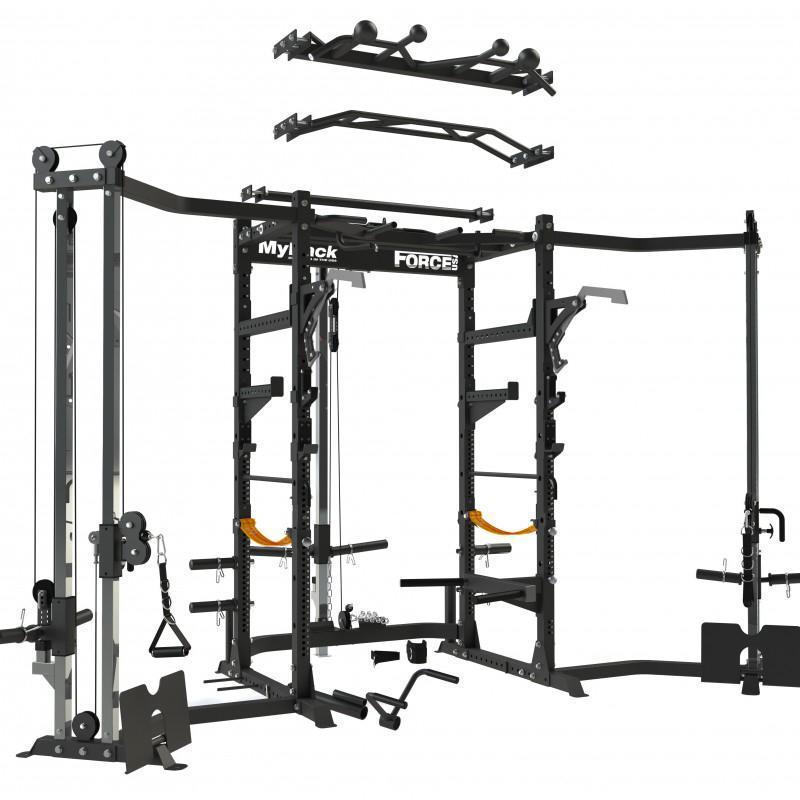 What's nice about MyRack is that the rack is affordable at the base rate and can be built into a near-full home gym. You'll start at the $399 price tag and can add a cable machine for a total of under $850.
Just these two additions are enough to work nearly every muscle in your body, but then you can add in your squats, deadlifts and other exercises to really enhance your fitness.
The MyRack is versatile, and that is perhaps the unit's unique selling point.
Durable Construction
Force USA provides lifting cages that are made with 12-gauge construction rather than the standard 11-gauge. The 12-gauge construction is normally going to come with 2" x 2" steel which isn't going to provide the heavy weight limits that MyRack provides.
MyRack knows that the 2" x 2" steel is not ideal, so the company beefed up their 12-gauge construction with 2.4" x 2.4" steel uprights and cross-members. Add in the 0-gauge base, and you have a durable, long-lasting rack that is made for heavy lifts.
A lot of 12-gauge racks can only withstand 300 to 600-pound weight capacities.
If you're pushing heavier weight, you'll be safer in the Force USA MyRack than the 2" x 2" racks that use 12-gauge or 14-gauge steel.
The added durability allows Force USA to offer their lifetime structural warranty.
The rack has a flat foot, and it adds to the stability of the rack. You can use the rack without mounting it, but you're putting yourself at risk if you don't. If you use spotting arms, for example, you'll want to anchor the rack into the flooring.
Whether or not you anchor the rack is up to you.
A lot of users, especially if you're not using a lot of weight, opt to not anchor their rack. If you want to make certain that you never flip the rack, it's best to anchor it to the floor. Flat-footers do allow for most people to not anchor the unit in place.
Spacing
The Westside section deserves some love, too. What this section does is incorporate 1" spacing lower on the rack and continues higher up on the rack for added customization. Additional spacing holes allow for more positions for your attachments.
You'll be able to stay within a range that is natural for your height and arm length.
Additional spacing holes allow you to maintain proper form on all lifts to reduce potential injuries.
Holes are numbered, so you can keep attachments in the right holes for your need. You'll find numbered holes at the bottom of the rack, which is different than competing racks.
Safety Systems
The base rack doesn't come with safety features built-in, but it does have attachments so that you can choose which system you prefer. Safety systems include:
Standard J-hook – A standard J-cup with protective nylon. These cups are able to hold a static load of 1,700 pounds. These are the go-to budget option that allows you to safely lift inside of the weight rack.
Deluxe J-hook – A stronger version of the standard J-hook. This hook comes with hard plastic that sits between the cup and the bar.
Box Tube – The box tube safety system allows for a drop-in design and protects the entire section of the rack. More expensive than the previous options, these safety tubes are able to provide additional safety that the J-hook doesn't offer.
Safety Spotter – Arms that are for squats and half racks. The safety spotter anchors to the unit and can be used for lifts that are outside of the rack. These arms are just 19.5" long with a nylon lining.
Slings and Straps – A simple, easy strap that can be adjusted quickly and be placed along the width of the rack to provide more support if the weight is dropped.
You can choose the safety options that work best for you. The J-hook or box tube accessories are a great option for most users.
MyRack Attachments for Additional Workouts
Do you want to do chin-ups or pull-ups?
You'll find that there are four accessories to choose from which will allow you to perform these complex movements customized to your preference. But what happens if you want to do dips?
There is a dip station or dip handle accessory that can be adjusted and used for your height.
A simple and effective attachment, the dip attachment allows you to incorporate your triceps for a difficult, advanced movement.
But that's just the start.
Landmines are a versatile piece of equipment in the gym, and you can also attach a landmine attachment to your rack.
It's a standard accessory that can be used with:
The attachment will attach to one of many band peg holes in the rack, and you can perform:
Landmine presses
Landmine rows
Landmine squats
But the attachment does take up a lot of space, so you can expect to have to move the attachment often to utilize your entire rack.
When working through exercises, you'll find that there are sticking points and easy points in a movement where you know that you can push or pull additional weight. The way to add more weight at these points is to either add chains or bands. There are band pegs that will fit into the holes on your power rack.
The bands will allow for more time under tension and is just another great method of fatiguing your muscles.
Bands are going to be another tool in your arsenal that helps you push through plateaus and meet your goals.
The rack does not come with weight plates or Olympic bars. If you're going to buy these new, I suggest the 7-foot Olympic bar and weight plates that are rubber coated or bumper plates. Metal plates will work just fine, but make sure that the flooring does have padding in case you drop the weight at any time during your workout.
Packing ensures that all components are well-protected, and the instructions are clear. You'll need to set aside some additional time when assembling the crossover or lat tower attachment.
Force USA's MyRack is able to withstand home use at a price that's affordable. Most users, with all of the attachments or even a few of them, will be able to get a full body workout with the confidence that their rack comes with a lifetime structural warranty.
Force USA brings affordability to the home gym with a product that's cheaper than Rogue and is able to withstand a lot of abuse. Even the attachments are very well-priced, so you'll be able to save a lot of money on a home gym in the process.
MyRack is ideal for 99% of users, but if you're over 6'3" or 6'4" you may have issues with some of the movements. Remember, the rack has a height of 87," so it's just over 7-feet high. You can adjust your positioning on some movements, but otherwise, these racks are affordable, durable and highly recommended for a home gym.