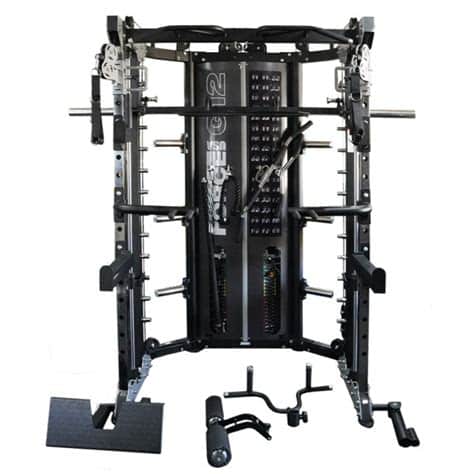 Home gyms are a great investment. There's no excuse not to hit the gym because you don't even have to leave your driveway to get in a workout. While it's easy to buy a treadmill or an elliptical, investing in strength training equipment can get pricey – and take up a lot of space.
The Force USA G12 combines the functions of 9 machines into one and in a compact machine that can fit into most home garages, basements or dedicated gym rooms.
Let's take a closer look at what this system offers and whether it's really the best all-in-one trainer out there.
What is the Force USA G12?
The Force USA G12 is a 9-in-1 strength training system that combines the functions of a:
Smith machine
Power rack
Functional trainer
You get all of this in one compact machine. When assembled, the G12 measures 79" W x 49" D x 90" H, and you still get an interior working space of 43" W x 34" D x 89" H.
The 9-in-1 system includes the following stations:
Low row
Leg press
Chin-up
Dip
Functional trainer
Power rack
Suspension trainer
Counterbalanced smith machine
You also get built-in storage space. With this single system, you can perform hundreds of exercises. Assembly is quick, and the compact design makes it easy for anyone to use this system.
Force USA G12 Reviews – Is This the Best All-in-One Trainer?
There are multiple all-in-one trainers out there designed for both home and commercial use. More people are taking their health seriously and investing in home gym equipment, and more commercial gyms are opening across the country.
But is this the G12 really the best? First, let's take a closer look at what this system includes, the benefits and the potential drawbacks.
What Do You Get with the G12?
The Force USA G12 comes with virtually everything you need for a serious full-body workout. Multiple attachments allow you to perform more than 300 exercises on this single machine.
Here's what's included with the G12 system.
G12 Attachments
Two, 200-lb. Weight stacks
Exercise chart
Chin-up bar
Pull-down rope
Lat pulldown bar
Functional training bar
Small grip frame bar
Landmine with handle
Adjustable stirrup handles
Low row footplate
Pulldown knee holder
Two extension chains
Multi-grip dip handles
Two lock collars
Six plate holders
Six spring clips
Attachment storage
Barbell storage
Suspension training ring
Safety spotter arm
J-hooks
All of these attachments allow you to perform hundreds of exercises from a single machine.
The G12 Power Rack
The power rack is one of the core parts of the G12 system, and it allows you to perform a wide range of free weight exercises using the included barbell and J-hooks. With the power rack, you can do:
Overhead presses
Squats
Bench press
Deadlifts
The power rack has an impressive max weight capacity of 992 lb.
The G12 Functional Trainer
The functional trainer also has a cable crossovers system that allows you to perform more than 70 exercises. You get six attachments as well as the dual 200-lb. weight stacks at the back of the unit.
The trainer has 16 adjustable height positions that allow you to perform exercises for all major muscle groups, including:
Chest
Back
Core
Arms and shoulders
Legs
The cable-and-pulley system is exceptionally durable and tested to 2,000 lbs. The trainer even has band pegs, so you can add extra resistance to your lifts.
The G12 Smith Machine
The Smith machine station has a fixed barbell that can use Olympic weight plates. This station has a max weight of 772 lb. The commercial-grade guide rails allow for smooth movement and safer lifts.
The station is ideal for people of all heights and incorporates safety mechanisms that eliminate the need for a spotter.
Vertical Leg Press
The vertical leg press is unique to the G12. In fact, this is the only functional trainer of its kind that has a leg press attachment. Use it on a bench or on the floor.
Low Row Station
The vertical leg press can quickly transform into a low row station with a footpad. When combined with the cable pulley system, you can use this station for a complete, full-body workout.
Suspension Trainer
If you're into TRX or resistance band training, the suspension trainer system allows you to incorporate these exercises into your routine as well. Force USA has both a resistance band and TRX package, but each one is sold separately.
Dip Station
The dip attachments allow you to choose from different grip options, and they adjust vertically for convenience. The dip station is also compatible with resistance bands or weight belts.
Chin-up Station
Over at the chin-up station, you also have multi-grip options for both pull-ups and chin-ups. With a weight rating of 772 lb., you can easily progress. And the multi-grip options allow you to choose from wide-grip, underhand close-grip, overhand and more.
Core Trainer
The core trainer station includes a rotating landmine station, allowing you to perform a variety of rotational core movements. You also have the option of connecting a barbell (not included) to perform upper body exercises.
The Benefits of the Force USA G12
Buying the Force USA G12 comes with a lot of crucial benefits, such as:
Customizability
A home or commercial gym should never limit your results. Variety allows you to overcome plateaus and meet your goals. Customizing the G12 is one of its major selling points. The G12 can be customized in numerous ways:
Adjustable J-hooks on the power rack
One-handed pulley adjustments
Chin up station with multi-grip options
Dip station
Handle adjustments
You can even attach resistance bands or weight belts to the rack.
When ordering your machine, you can also choose from a number of custom options, including:
Bars: Gunner (great for moderate or experienced lifters), Ranger (great for home garages) or Patriot (great for beginners to moderate trainers)
Benches: FID, commercial FID or heavy-duty flat bench
Plates, Bumpers and Bands: Pro-grade colored bumper plates, super bands resistance bands or rubber coated Olympic weight plates
Flooring: Slip-resistant floor tiling.
Professional assembly.
All of these customization options come at an additional cost.
Engineered for Pros
You can rely on the G12 to last a lifetime. G12 is designed with heavy-duty construction using commercial-grade materials. In addition, a wider space construction concept allows you to reach the next level with your workouts.
There's also a counterbalanced Smith Machine, which is perfect for beginners or advanced users, too.
For advanced lifters trying to hit new PRs or beginners who want an all-in-one trainer, the commercial-grade concept of the G12 allows it to be used daily without worry of breakage.
300 Exercises
Change is the key to maximizing muscle growth. Users can benefit from choosing up to 300 exercises on the G12. But, as many bodybuilders and strongmen will attest, if you don't change your routine and vary your workouts, you'll hit plateaus.
And your muscles will adapt to the stressors you put on them.
With the ability to do 300+ exercise variations in seconds, you'll keep your muscles guessing and growing.
Full-Body Workouts
Full-body workouts are the way to go if you want to maximize caloric burn and hit as many muscles as you can in a short amount of time. If you have just 15 – 30 minutes a day to focus on exercise, full-body workouts are the best option.
G12 has a 9-in-one design that allows you to hit every muscle group.
You can use the vertical leg press attachment to focus on your lower body, or you can focus on the upper body. Add in the landmine station, and you can focus on your core with rotational torso training that will focus heavily on the obliques while working on other areas of the abs, too.
Low rows and the dual pulley system add just another layer of versatility to allow you to perform rapid full-body, HIIT workouts. If you want to burn as many calories as you can, the ability to switch back and forth between pulleys and minimize rest time will melt fat away.
Speaking of the pulley system, let's take a look at the 1:1 cable ratio.
1:1 Cable Ratio
The G12's cable crossover and functional trainer has a cable pulley ratio of 1:1. What this means is that the weight you load is the weight you will be lifting. If you load 100 lb., you'll be lifting 100 lb. You don't need to use as many plates to reach your desired weight. The 1:1 ratio helps you progress faster and establish a bigger max.
Excellent Warranty
The G12 is backed by an impressive warranty, which demonstrates the durability and quality of this machine. With this system, you get:
Lifetime warranty on the frame
2-year warranty on the cables and pulleys
90-day warranty on attachments
Drawbacks to Consider
Force USA G12 is the best all-in-one trainer, but we want to be unbiased and fair by also showing some things that we consider drawbacks or that could be a little better.
Bench and Barbell Not Included
When you buy the Force USA G12, you don't receive a bench or barbell with the unit. For the price, this is something that we would like to see added in the future. However, when you purchase the unit, you're presented with three bench options:
1. FID Bench
The FID stands for flat, incline and decline bench. Compact and versatile, the bench can accommodate up to 550 pounds of maximum load capacity. The bench has:
8 adjustable back positions
Foot holder
Rolled steel tube frame
Rip-stop mesh backing
Lifetime structural warranty
One issue is the bench is often out of stock because it's a popular choice for Force USA. The bench typically costs $249.99, but it's often on sale for around $179.99.
2. Force USA Commercial FID Bench
Force USA's commercial bench is a heavy-duty model that comes with a wide range of adjustable options and has a weight rating of 1,300 pounds. The bench features:
7 backrest adjustment positions
3 seat adjustment positions
Adjustability from –11 to 85 degrees
Dual transport wheels and a handle make moving the bench around fast and easy. You can transform the bench into a flat, incline, decline or abdominal bench. Additionally, you can transform the unit into a military press.
A lifetime structural warranty is offered on the bench, too.
The bench retails for $449.99 to $499.99, depending on whether there are sales ongoing.
3. Force USA Heavy Duty Commercial Flat Bench
The commercial flat bench is the final unit on the list, and it's perfect for anyone that wants to flat bench and use dumbbells. Due to its inability to adjust, it benefits from a weight rating of 1,700 pounds.
The bench features:
Commercial-grade, rip-stop mesh backing
Powder coated frame
Lifetime structural warranty
Handle
Transport wheels
You can purchase the bench for $249.99 to $399.99.
When you purchase the unit, you also have the option of buying three different barbells. We won't go into great detail on these, but they include:
Gunner Barbell, which is ideal as a multi-purpose barbell with a weight rating of 1,500 pounds.
Ranger Barbell, which is a good choice for home or garage gyms, and the weight rating is 1,500 pounds.
Patriot Barbell, is a good choice for beginner to moderate users with a weight rating of 1,500 pounds.
You can also purchase flooring, bumpers, bands and plates, too. Finally, if you don't want to deal with assembling the G12, there's a professional assembly service.
Wrapping Up
G12 reviews are right – this is the best all-in-one trainer. You can train all major muscle groups on the Force USA G12. When it comes to workout variety, it's difficult to find a trainer that offers a similar level of customization.
Plus, you'll appreciate the:
1:1 pulley ratio
Dual 200-pound weight stacks
Leg press
Load mine
So much more
If you're looking for the best all-in-one fitness trainer, the G12 offers a higher resistance and a lifetime warranty that's difficult to find. And if you have stronger lifters that can leverage the 200-pound dual pulleys, it provides significant resistance even for the strongest powerlifters.