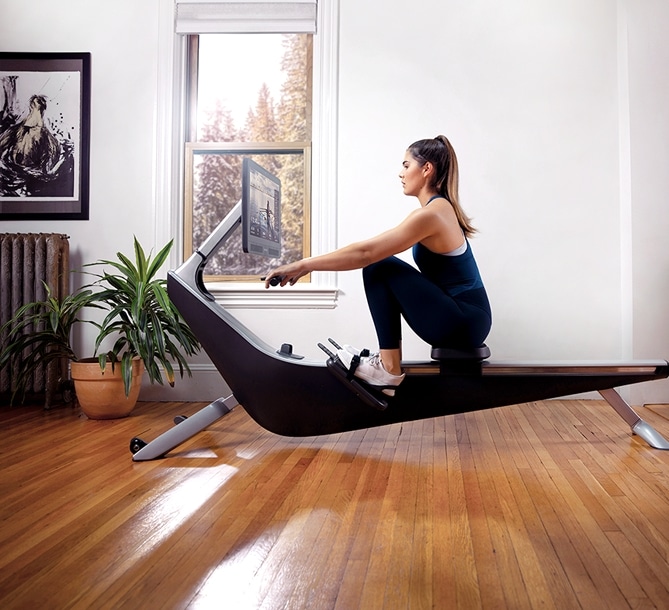 Hydrow joins in the explosion of interactive at-home workout machines that are changing the way we exercise. Designed to make you feel like you're rowing out on the water, Hydrow's unique design delivers both a challenging workout and an immersive visual experience.
But this rower is so much more than just a fancy piece of cardio equipment. It works 86% of your muscles, so it's truly a full-body exercise machine.
Hydrow Features and Specs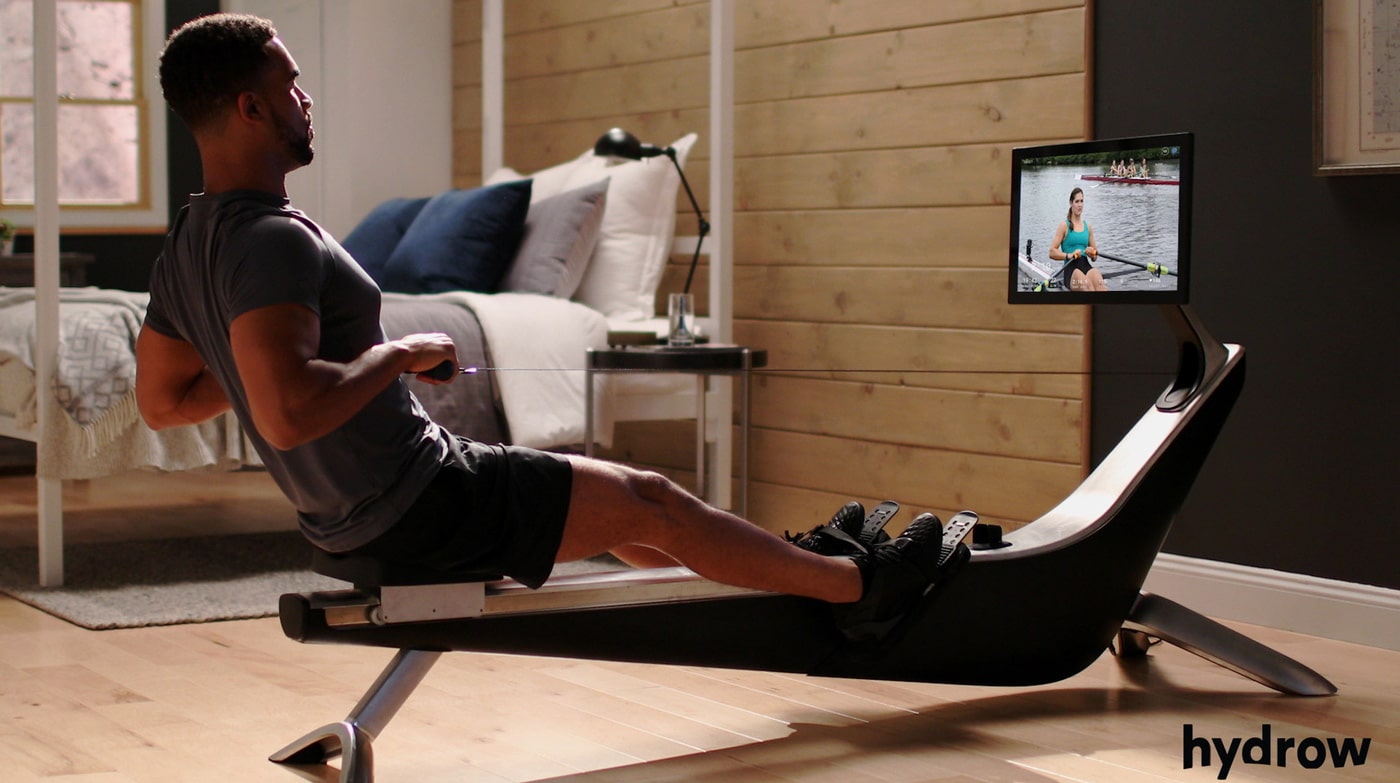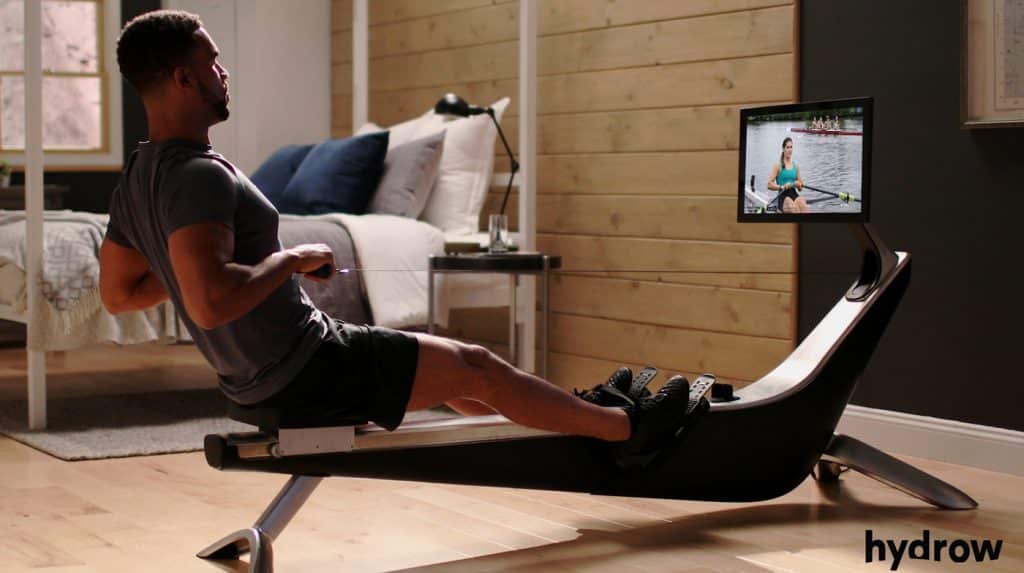 High-Tech Features
Hydrow was built from the ground up to simulate a true water rowing experience. Using patented technology, this rower makes each stroke feel like it's on the water. But the experience goes beyond this basic level. This machine is loaded with high-tech features that will take your workouts to new levels.
A 22" HD touchscreen is mounted to the front of the machine to give you a visual experience.
Hydrow knows that if you're doing it right, you're going to work up a sweat on this rowing machine. That's why they designed the touchscreen to be sweatproof, so you don't have to stop your workout just to use the monitor.
The Hydrow boasts other high-tech features, like:
Hi-Fi speakers
A built-in microphone
Two-megapixel camera
Bluetooth connectivity
USB 2.0 connection
Wi-Fi capabilities
To keep you motivated and interested in your workouts, the Hydrow comes with more than 500 pre-recorded studio and river rowing workouts. Choose from four types of programs: Rows on Demand, Live Rowing, Whole Body Fitness and Serene River Rowing.
Journeys workouts will take you on an unguided tour of scenic waterways, so you can explore the waters at your own pace.
Hydrow also has Mat workouts to complement your rowing routine. Choose from strength training, yoga and Pilates workouts for a truly well-rounded workout routine.
To take advantage of all of these workouts, you'll have to pay a monthly membership fee. That fee is still cheaper than a gym membership, and it's updated with new workouts regularly. Plus, all workouts are guided by elite trainers, so you know that you're getting a good workout.
But what about resistance?
Most rowing machines either use air resistance (row harder and faster for a more difficult workout) or magnetic resistance. Hydrow uses magnetic resistance, but the system is a little bit different from the normal rowing machine. It adjusts automatically 240 times per second as you're rowing.
It's a truly intelligent magnetic resistance system. And the built-in heart rate monitoring allows you to keep an eye on your heart rate during your workouts.
Durable and Ergonomic Design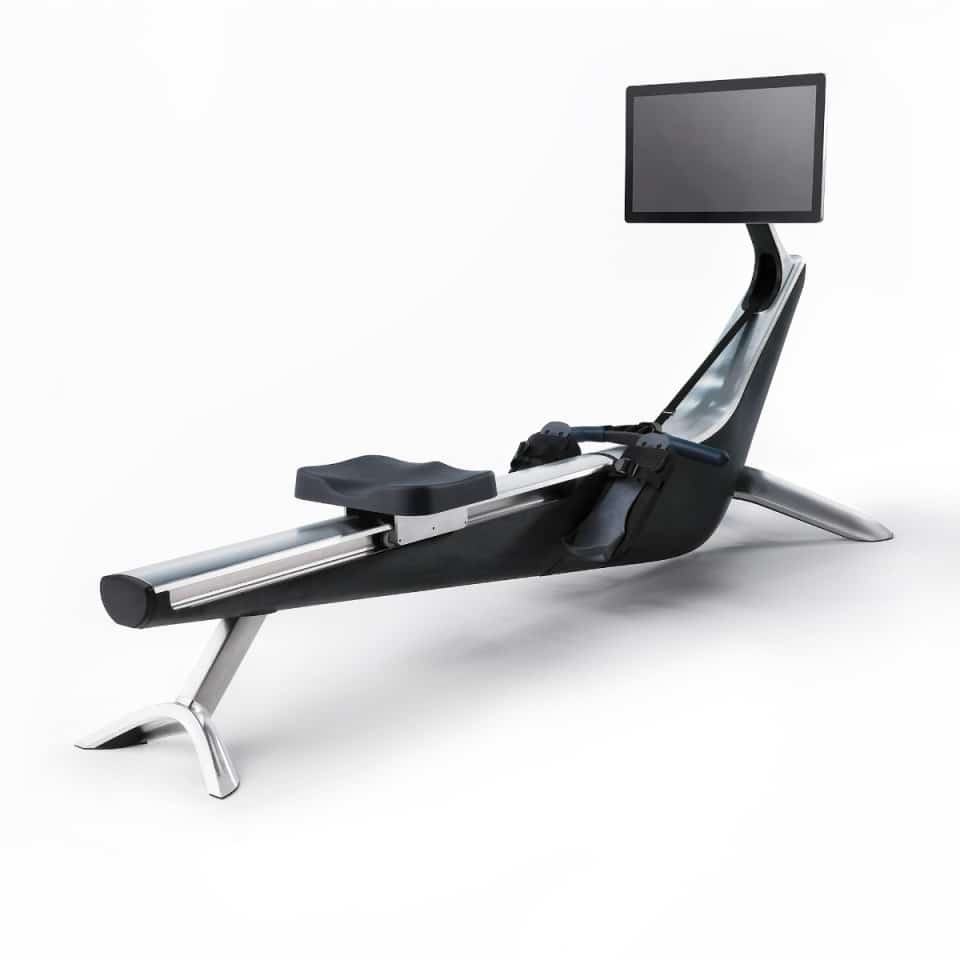 A steel and aluminum frame add to the durability of this machine. An ergonomic design makes rowing comfortable and more realistic.
The industrial-grade webbed strap allows for smooth and silent strokes.
The 10-roller system seat is comfortable and ergonomically designed.
The footbed is easily adjustable to ensure correct foot placement.
Ergonomic handle for a more comfortable grip.
The machine's durable frame can support up to 375 lbs.
The Hydrow is a good fit for up to a 36" inseam.
When you're done with your workout, you can tilt the Hydrow into an upright position to tuck it away in a corner.
With dimensions of 86"L x 47"H x 25"W, the Hydrow takes up a lot of space in a room, so that must be considered before buying.
More Than Just a Rower – A Community
Hydrow, sometimes called the Peloton rowing machine, offers more than just a solo rowing experience. They've worked hard to create a community.
When doing a Live Rowing session, you can see a leaderboard with the distances of other rowers. The leaderboard is a great motivation tool because it stokes your competitive fire. Even if you have no desire to in first place, you still feel motivated to push yourself harder to improve your distance and time.
The community aspect of the workouts is nice. It makes you feel a little less isolated and more motivated to push yourself harder.
Workouts are led by elite athletes, and they're also going to push you to do your best. It creates a community atmosphere and puts a new spin on the classic fitness class.
A Few Concerns
There's a lot to love about the Hydrow machine, but like any other piece of workout equipment, it isn't perfect. Although there aren't any serious concerns with this machine, there are a few little things that you should know about before you buy.
#1 – The Upright Storage Kit Will Cost You Extra
One of the nice things about the Hydrow is that you can store it in an upright position in between your workouts.
But if you want to store it properly, you'll need to purchase the Upright Storage Kit – for an additional fee.
The Hydrow has a pretty steep price tag, and although the quality makes it worth the cost, it's disappointing that they didn't include this simple little kit with the standard rower package.
#2 – Footprint
The only other consideration with the Hydrow is its size. This rower has a very large footprint (86"L x 47"H x 25"W), so if you have a small space, this machine may not be a good fit for you.
When stored in an upright position, this rower's footprint shrinks to just 24" x 33," but you'll still need 15 square feet of space when using this machine.
The good news is that this machine has wheels at the front of the base, so it's relatively easy to push into a corner when you're done using it. The machine still weighs 145 pounds, but the wheels make it a lot easier to move.
Both of these concerns are pretty easy to overlook, especially if space isn't a concern.
If you already have a rower in your home, you may not have an issue finding space for the Hydrow. When you consider the performance and build quality, you may want to show off the machine anyway.
Who is the Hydrow For?
The Hydrow rower is a serious piece of exercise equipment. It's ideal for anyone who:
Is serious about improving their fitness level
Wants an interactive at-home workout machine
Wants a full-body and cardio workout with one machine
Anyone who has the budget for this machine can benefit from its robust, durable and ergonomic design. Rowers offer a full body workout, so you get more bang for your buck with a machine like the Hydrow.
The Bottom Line
The Hydrow is an advanced rowing machine with interactive workout features, an intelligent resistance system, immersive visual experience and a durable design.
In recent years, interactive workout features have made their way into most at-home workout machines – except for the rower. The Hydrow is really one of the first rowing machines to bring interactivity to this form of exercise.
The pre-recorded workouts add variety to your workouts while the leaderboard pushes you to work harder. With more than 500 recorded workouts, you're never going to get bored and you'll always find a program that will push you to your limits. Or, if you're in the mood for a more relaxed atmosphere, the unguided tours of the waters allow you to move at your own pace in a more natural, laid-back environment.
The Hydrow takes rowing to the next level. With such an advanced design, this is a machine that you can use at any level, even as your fitness level progresses to a more advanced stage.