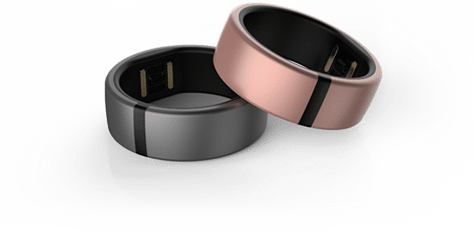 If you're tired of wearing devices that don't add to your style, you're not alone. Fitness bands often work well, but do they really go well with your suit jacket? How about a dress shirt? You can't deny that the wearable fitness market is missing something.
Motiv aims to change that.
How? The Motiv Ring.
You see, the motive ring is simply different. This ring replaces the fitness bands that people try to hide but can't. Yes, these products work similarly, but where Motiv Ring excels where others fail is function.
What is a Wearable Fitness Tracker?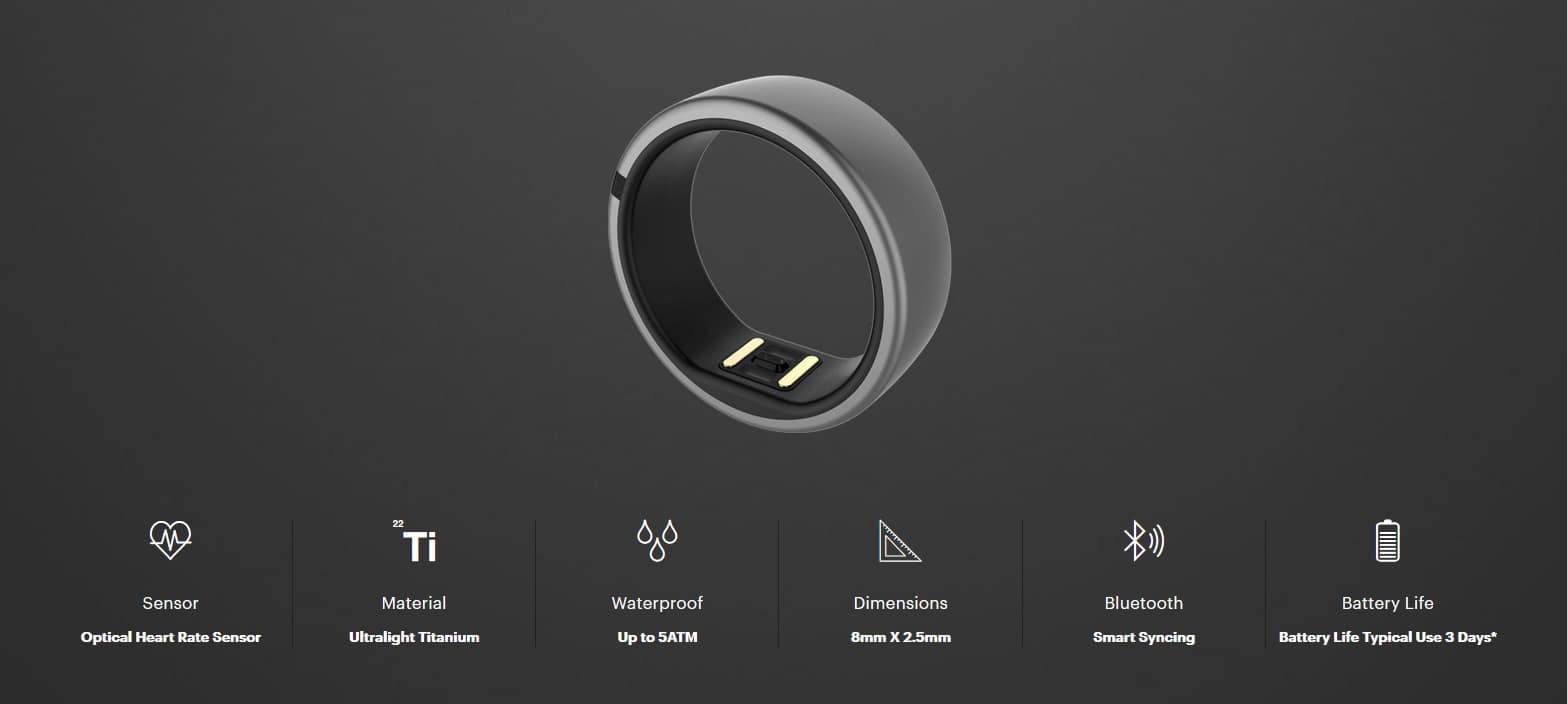 Wearable fitness trackers are exactly what they sound like: fitness trackers. When you wear these devices, they monitor all sorts of things:
You aren't healthy if you're not sleeping. When you sleep, your body has a chance to recharge and repair. Sleep is an essential part of life, and without it, you'll feel run down and your muscles won't grow (if you're strength training). Your sleep activity is monitored so that you know how long you've slept. This is a great metric to have so that you can adjust your sleeping patterns as needed.
Heart Rate. Your heart rate is essential when trying to boost your cardiovascular health or burn fat. If you don't keep your heart rate up, you won't be able to burn fat or increase your cardiovascular health. Heart rate monitoring ensures that you're pushing your body to the limit when you exercise.
Activity. Your activity will also be monitored so that you know how many calories you burn and can monitor your overall activity level. The extent of the activity monitored varies from device-to-device.
Wearable fitness trackers help you keep on top of your fitness level whether you're sleeping, going through your day or hitting the weights at the gym.
Our Take on the Motiv Ring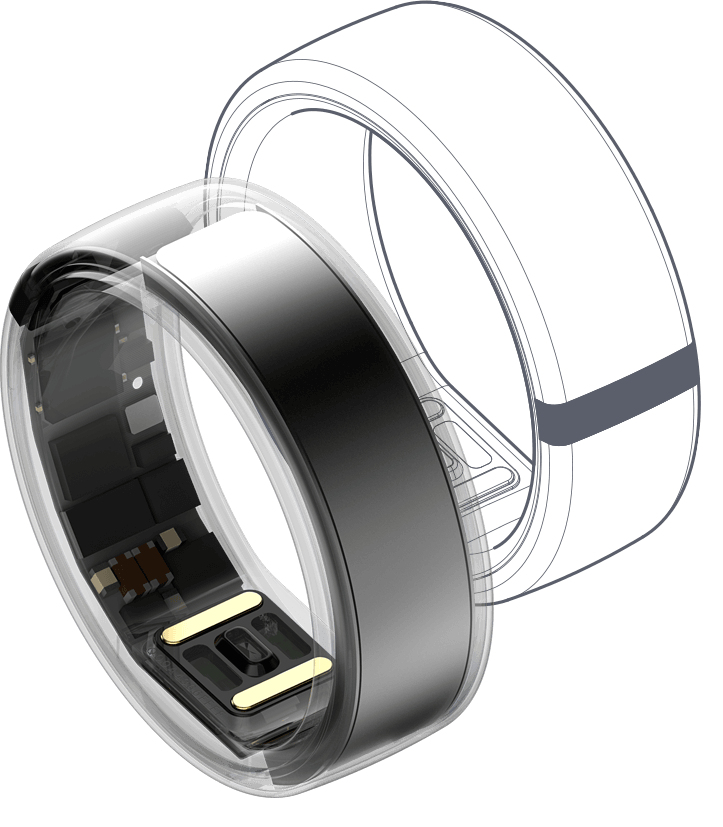 I want to make something clear: the Motiv Ring is more than just a heart rate ring. Read that sentence to yourself again. This ring will also do more than act as your personal sleep monitor. It's a game changer.
If you're a person that needs numbers in front of you to track your progress, this is the ring for you.
A few of the features and specs that you need to know about before we dive into the features more in-depth include:
Waterproof to 165 feet
90-minute or less charge time
3-day battery life on average
Lithium ion battery
3-acis accelerometer
Colors: slate gray and rose gold
IOS 9.0 or later compatible
I don't know the weight of the ring, but it's very light and unnoticeable when on your finger. It's like wearing any other ring – you get accustomed to it rather quickly.
When you wear your fitness tracker ring, you're wearing a ring that does a lot:
Sleep Monitoring
Simple and essential. You wear this device whenever it's not charging, and it will be able to calculate when you're sleeping and when you're awake. You'll have a concrete timeline of your sleeping habits.
You'll always know when you've missed your 7 to 8 hours of sleep.
Sleep tracking is essential to feeling and being your best. When you have sleep deprivation, your performance will suffer. A person that tosses and turns all night long will suffer from:
Fatigue
Lack of strength
Slow results
Lack of energy
You need to monitor your sleep if you're serious about your health and fitness.
Heart Rate Monitoring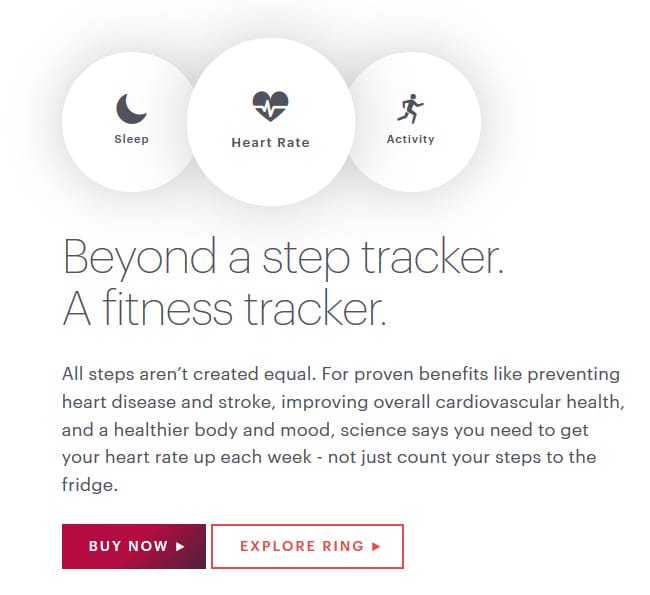 Motiv Ring makes tracking your heart rate possible. There's an optional heart rate sensor for the Motiv Ring. What this sensor does is detect your heart rate and track it. You'll be able to tell what your heart rate is when you're exercising.
If this doesn't seem like something that's important, you would be wrong.
It's very important to try and monitor your heart rate. If you keep your heart rate high, you burn more calories and increase your oxygen intake. A person that doesn't maintain a high heart rate will not see optimal results.
This ring will monitor:
Active heart rate so that you know what your heart rate is during an intense workout session.
Resting heart rate that allows you to monitor your heart rate at any time.
Activity Tracking
And while the first two features are very nice to have, what really makes the Motiv Ring shine is the unit's activity tracking. After all, you know the ring looks good and can be worn with any outfit, but does the ring work well when tracking your activity?
Yes.
Your ring will track:
Different activity types
Steps taken
Calories burned
Active minutes
Distance
And it's the perfect balance between form, fit and function.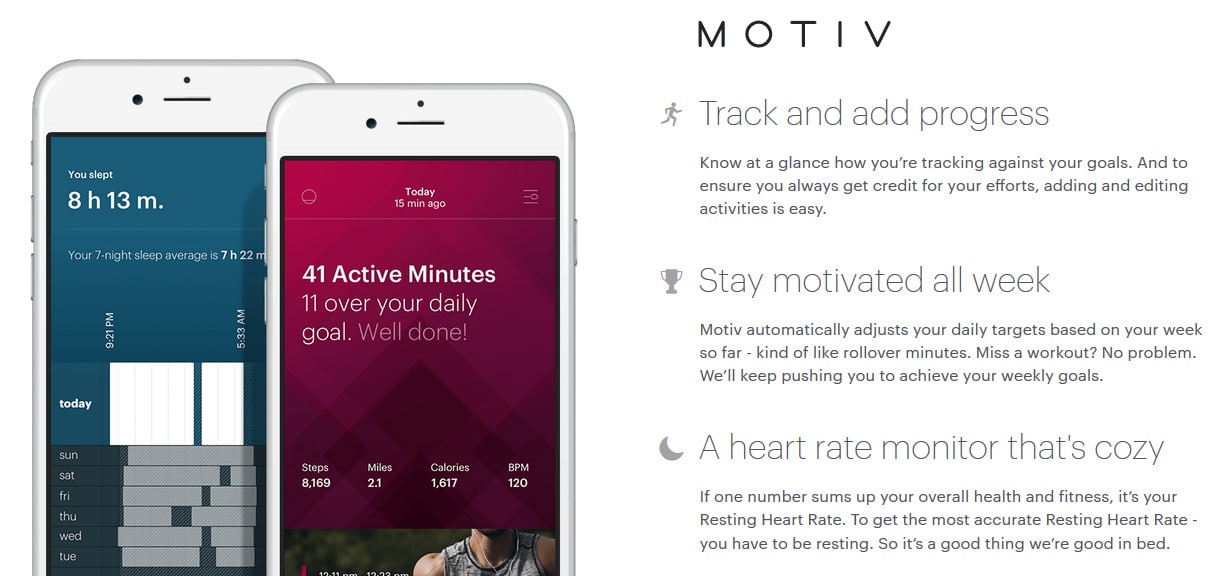 The Motiv Ring is all about your fitness. When you wear this device, it will also:
Track your progress. If you're not tracking your progress, you're wasting your time. Motiv will allow you to track your progress at a glance. You'll know how close you are to reaching your goals.
Add progress. You can add and edit activities so that you know exactly what you did, when you did it and for how long.
Motivate you. You need to stay motivated throughout your workout, and Motiv Ring helps you achieve this, too. The ring will allow for automatic adjustments of your daily targets based on your weekly activity. You'll know how close you are to hitting your weekly goals at all times throughout the week.
So, where is all of this information stored? It's stored in the exclusive Motiv App. You see, the app will connect to your ring and start monitoring all of your information for you. When you open up the app, you'll be able to see:
Daily feed providing you with motivation. You'll know your day's active minute goals and other goals you put in for the day.
Weekly view showing you the activity you've engaged in already and your progress.
Resting heart rate information with the daily average.
Sleep amount by day so that you know just how much you've slept all week.
Activity detail including which activity you performed along with your beats per minute, steps, miles and calories burned.
You can track your progress right in your app to allow you to keep on top of your fitness level. A lot of people state that this is the best fitness tracker with heart rate monitoring, and a lot of this has to do with the app.
It's easy to see your heart rate for every day of the week.
Even the average heart rate is listed for each day, so you'll be able to see your heart's progress all day.
Motiv Ring Reviews

Motiv Ring wins in the style department, and it provides you with a world of functionality right on your fingertips. It's amazing the level of quality that the company has crammed into their fitness ring.
You'll be able to track everything.
And PCMag rates this ring a 4 out of 5 stars.
Why did the ring lose a star?
The reviewer thought that the ring was bulky, and while I don't agree with this sentiment, it's a personal preference I suppose. The other major drawback, and this is one that I do agree with, is that this ring doesn't support Android.
You need to use an iPhone or iOS device if you plan to use the Motiv Ring.
Others have a lot to say about the Motiv Ring, too, including:
It's the only wearable fitness tracker that I want to wear every day.
Motiv crammed a full fitness tracker into a ring.
Simple, but surprisingly capable.
In terms of function, you'll find that the Motiv Ring doesn't offer much of an advantage over the competition. All of these fitness trackers work in relatively the same way, but none of the other fitness trackers look this good.
You can hide your tracker right on your finger.
Most people will never know that you're wearing a fitness tracker.
Ordering is Customized, Too

The company behind Motiv Ring knows that they need to step up their game if they want to have a chance to compete with other wearable devices. So, what they do is offer the Motiv Ring at a price of $199 (super cheap).
And they go a step further.
Your ring size is different than my ring size, so how do they handle this? They'll send out a sizing set to your home to try on and find the right ring size for you.
It's a custom, perfect fit every time.

Click here to order your Motiv Ring today to start tracking your activity.